WE ARE THE BIGGEST DOOR MANUFACTURER IN CENTRAL AND EASTERN EUROPE
PORTA'S 5 FACTORIES PRODUCE MORE THAN 1.7 MILLION DOORS EACH YEAR
PORTA – REAL PARTNERSHIP IS MORE
THAN A PRODUCT
OPEN THE DOOR TO A BETTER BUSINESS WITH US.
LET'S GET TO KNOW EACH OTHER!
OPEN THE DOOR TO A BETTER BUSINESS WITH US
BECOME OUR PARTNER
PORTA, A PARTNER FOR YOU
We have been supporting small and large developing businesses for many years.
Regardless of whether you own a small door store, showroom or facing a large investment, PORTA is the answer to your needs.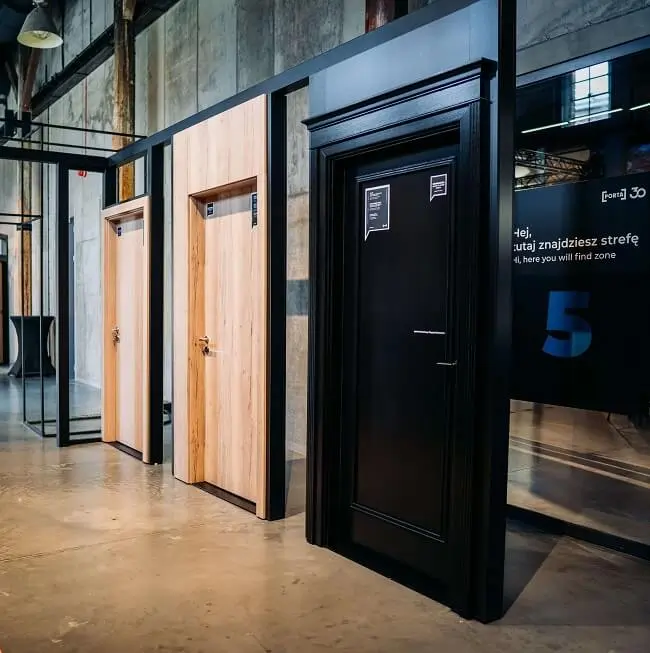 WHY YOU CAN RELY ON US
Open up to more We ensure continuity of supplies
Being a vast orders executing company, we have our proven suppliers who provide us with a continuous supply of the highest quality materials. Optimized delivery costs
We own 5 factories and deliver our goods and services from 3 warehouses located in Poland and 1 located in Romania. Our method of order fulfilment ensures the most optimal path in terms of time and costs.
We are distinguished by flexibility
We carry out both standard orders and individual projects. We love challenges and approach each initiative with equal commitment. Complex customer service
You can communicate with the PORTA team in 10 languages (English, German, French, Polish, Slovak, Czech, Romanian, Hungarian, Ukrainian, Russian). Our communication platforms are supported by technical advisers always ready to assist you.
TRUE PARTNERSHIP IS MORE THAN A PRODUCT
Get to know our possibilities. We are not just a simple supplier.
We accompany you at every stage of your business. We help, support and advise.
BUSINESS CONSULTING
We assist you in business optimization process; our 30 years of experience and constant developing ensures that (Porta is present on almost all continents, our products can be found in Europe, South and North America, Africa and Asia). You can count on our support from the very beginning of our cooperation. We provide you with product trainings and all required assistance, in particular during sale point opening and/or modifying an existing showroom.
DESIGNING A SHOWROOM
We will help you design your showroom. We are aware that every showroom differs in terms of area, location and layout. Our CX department creates tailor-made projects, optimized to the needs of customers, based on the latest global trends in design. Such an exhibition of PORTA products ensures visibility on the market through elegant and functional interiors that build positive customer experiences. We focused on high quality materials, simple and elegant design and high durability. We work with over 3,000 active points.
DEVELOPING SKILLS
You can rely on our support at every stage of your development. Our specialists constantly improve their qualifications by taking part in trainings, academies and courses and share the acquired knowledge with our sales network.
WHO IS PORTA?
Get to know us and see how we work.
SEE OUR MOST INTERESTING PROJECTS
We execute orders for various partners: from government buildings and diplomatic missions, through schools, theatres and hospitals – to residential buildings all over the world. See how the door can add character to any interior.
QUESTIONS?
Check our Q&A section below and see if your concerns can be answered.
PORTA exports to markets all over the world. In order to confirm whether it is possible to deliver the order to your country, please fill in the contact form below.
YES. We work with diverse clients. Our products can be found in private apartments as well as in hotels, restaurants and hospitals. We are flexible and approach each client individually. We execute even highly personalized orders, including unusual fittings, colours and dimensions.
The PORTA company has been supporting its partners for 30 years. We guarantee assistance in the form of substantive, technical and training support at each stage of cooperation and depending on the needs. Contact us and see how we can help you.
In order to obtain an up-to-date offer, please contact us via the contact form. The terms of cooperation, the method of delivery as well as currently applicable discounts are determined individually and depend on the volume of the order and the type of products ordered.
The average waiting time is 3 to 7 weeks. Orders made with non-standard fittings and in non-standard dimensions and coverings may differ in the duration of the implementation. Each order and the estimated delivery time will be confirmed by a PORTA employee. Should you require detailed information about the above, please contact us via the contact form. The completion date of each order is set individually
Do you want to start cooperation?
Do you have more questions? Write to us!